Profiles
Abbass SylvesterFounder / Owner
It all started with my first haircut at 1 years oldwhen my grandfather took me to our family barber in district six, owned by Harry Nathoo and his late father. None the wiser that one day I would come full circle and be mentored by Mr Nathoo. Back in the days, families were very loyal to their barbers; and fathers, uncles, and grandfathers would introduce their young family members to the family barber. In the good old days it was all about community and family run businesses. A barber was not just a barber but stood as an integral and important part of the community. In these spaces ideas were born, kinship ties strengthened, and just simply to enjoy wholesome barber talk to take the edge off. With my first haircut, little did I know that this setthe foundation to what will become a lifelong journey in my life, career and business.
The Nathoos' owned one of the oldest barbershops in town, at The Oriental Plaza in District Six, opposite The Goodhope Centre. During my schooling years I went with my Grandfather and would spend my days being mesmerisedand inspired with the trade. For me, it was the traditions, the community, the etiquette, the order of the tools of the trade, and of course the flow of the whole process from start to finish. When I completed school, I still wasn't sure of what I wanted to do, and in a moment of inspired intuition, I approached Harry and told him that I would like to become a barber. He said ok, but first I must grab the broom and sweep up after every cut. Harry became my mentor and while he was cutting and interacting with his clients I would soak it all up like a sponge and taught myself techniques by stealing with the eye. That year, December was upon us and we know what that means in Cape Town, peak festive time when everyone looks good and fresh haircuts are in high demand. Mr Nathoo senior who had retired at the age of 85, had taught me some more techniques. The shop started to fill up quickly and there I was, tools in hand and living myc alling and dream.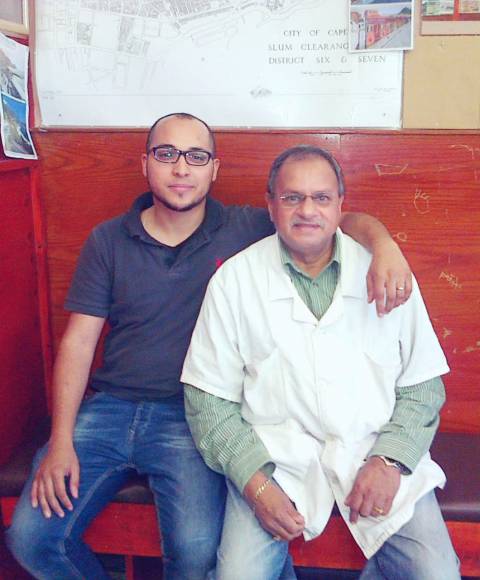 Harry Nathoo, my mentor
The next ten years I had aquired so much experience, from starting on a balloon with shaving cream to sharpen up myshaving technique, to classic hot towel shave, beard designs and latest hair trends. This has afforded me lots of opportunities and features in Men's Health, GQ and TV commercials. I have also worked with celebs: with the likes of Trevor Noah; J'Something from Mi Casa; theatre productions like Kat and the Kings by David Kramer; various TV, ads, model and fashion campaigns, and film production. Now, the time has come for me to carve my own path, and perhaps inspire younger talent too. It is one of life's greatest pride and joys that I have the oportunity to set up shop , practice my trade and venture and lean into growth and possibility. With my life and work experiences, and all the good old school values and traditions, I welcome you into my barbershop. A barber is more than just a barber, they are community, there for your firstcut, for your job interview, and your wedding day. It's more thanjust a fresh cut, it's a lifestyle.